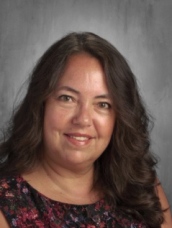 Elizabeth Cowan
Language Arts Team
Hi! My name is Elizabeth French-Riviera Cowan. I know, quite a mouthful. Simplified, it is just Ms. Cowan. You may not know it from the name, but my background is Puerto Rican (although I've only been there once!).
This is my 2nd year at McKeel Academy of Technology. Being at this school is a dream for me. Previously, I taught in Polk County for 3 years and before that, in Arkansas for 14 years. English is my specialty. I also teach ACT and SAT tutoring classes which I thoroughly enjoy.
My eldest son is Caleb Cowan. He still lives in Arkansas with my new grandbaby, Paislee! Come by my room and you will see a "shrine" to her. ;) My middle child is a son, Diego Riviera. He lives in Fort Lauderdale, FL. My daughter is my "baby", Amber Gleghorn. She married her high school sweetheart, and they have 3 dogs (my grand-doggers). They all live in Benton, Arkansas. So, why do I live here? Well, I like Lakeland. Actually moved here from Brandon back in 19**. Then later that year I moved to Missouri, traveled for a year, then to Tennessee, Arkansas, Massachusetts, and back to Arkansas until 2018 when I came back to my roots - Florida. My siblings and mother live around the Central Florida area which makes it especially appealing.
What I enjoy most in life (besides getting to know my God and Savior better) is traveling! I recommend it to everyone no matter the age. Getting to know people of other cultures, ethnicities, and lifestyles is a passion of mine. It helps me put life into perspective.
My favorite things are Mexican food, Diet Dr. Pepper, and White Chocolate. If you can't find me, I am probably on some beach with a book in hand.
God be praised for my life. No matter the struggles, God always blesses. I am looking forward to another blessed year.
elizabethcowan@mckeelschools.com
Room 01-110
Language Arts Team