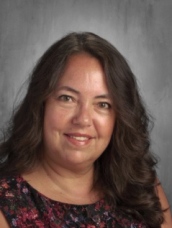 Elizabeth Cowan
Language Arts Team
Hi! My name is Elizabeth French-Riviera Cowan. I know, quite a mouthful. Simplified, it is just Ms. Cowan.
2023 - 2024 is my 3rd year at McKeel Academy of Technology. Being at this school is a dream for me. Previously, I taught in Polk County for 3 years and before that, in Arkansas for 14 years. English is my specialty. I also teach ACT and SAT tutoring classes which I thoroughly enjoy.
I have 3 "children" (fully grown and on their own). My eldest son is Caleb Cowan who lives in Arkansas with my grandbaby, Paislee! My middle child is a son, Diego Riviera. He lives in Fort Lauderdale, FL and works at iFly. My daughter is my "baby", Amber Gleghorn. She married her school sweetheart since 5th grade. They just had a baby boy, my 2nd grandchild named Merritt. She and her family also live in Arkansas. So, why do I live here? Well, I like Lakeland. Actually, I moved here from Brandon back in 19**. Of course, it looks MUCH different now. I have moved to quite a few states during my lifetime, but was married and raised 3 children while residing in Arkansas. In 2018 I decided to come back to my roots - Florida. My siblings and mother live around the Central Florida area which makes it especially appealing.
What I enjoy most in life (besides getting to know my God and Savior better) is spending time with family and traveling! Getting to know people of other cultures, ethnicities, and lifestyles is a passion of mine. It helps me put my American life into perspective. As a matter of fact, in June 2023 I was blessed to travel to London, England; Paris, France; as well as Madrid and Toledo, Spain. Then in July 2023, I was able to visit Kenya, Africa for 15 days. What an experience that was!
If you can't find me around here, I am probably on some beach with a book in hand or exploring Florida parks.
God be praised for my life. No matter the struggles, God always blesses. I am looking forward to another amazing year.
elizabethcowan@mckeelschools.com
Room 01-110
Language Arts Team