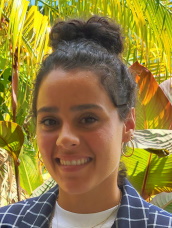 Angie Hernandez
Language Arts Team
Greetings,
I am honored you would take the time to read this to hopefully learn a little about me. I was born in New Jersey, but state hopped to 4 other states before planting myself firmly in Lakeland, FL in 2011. I pursued education while working full time for 9 years and was finally able to graduate from Southeastern University. I certainly learned that non-traditional timelines do make for full and fulfilling educations. I started my teaching career in 2021 which most people thought was precarious timing, but I managed to avoid most of the 2020 issues. I started at Southwest Middle, but happily made my way to McKeel in 2022. My resume is a colorful one filled with waiting tables, teaching pre-school, working in a lighting showroom, and being an underwriter for an insurance company. However, of all those jobs it wasn't until I stepped into a classroom that I finally found my purpose. Helping students discover and define their voice has been my most cherished calling.
I am a believer in a healthy work to life balance so I can say that I have a life outside of the school. I find myself most often playing with my plants or dog, Lola, in my down time. I also love going to the beach, traveling (another word for trying food in other places) and writing. I also try to be sure to make time for fitness, meal prepping and mental health breaks. I've learned that I am teaching my students more than English. They observe more than just my lectures and assignments. They can see the way we take care of ourselves and they'll mimic that! It is my goal to teach them to not just discover their voice, but to see value in that and themselves.
I come from a very large family with 3 brothers and 9 male cousins just on my father's side so teenagers do not rattle me. In fact, being in a lively classroom simply makes me feel at home! I am hoping that your students feel the same way in my classroom.
Warmest Regards.
Credentials
Bachelors of Science : Majoring in Business and Professional Leadership
Certification in teaching English 6th - 12th
Room 04-103
Language Arts Team