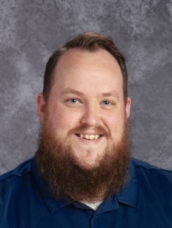 Donald Campbell
Language Arts Team
Hey Wildcats! My name is Don Campbell and this is my second year at McKeel. I have taught in Florida since 2013 and taught in New York prior to that. This year I am teaching English 4, English 4 Honors, and Intensive Reading. I have taught English 2, English 3, English 4, Intensive Reading, and AP Language in the past.
I earned a Bachelor of Arts and then Master of Arts both in English Education at the State University of New York at Fredonia. After moving to Florida, I then earned a second Master's degree in Educational Leadership at USF.
My wife and I had our first child in March, so I just spent the summer learning how to be a dad! I have two pit bulls and two cats to keep my hands full as well. I enjoy gaming, reading, singing, and more!
I know we will have a great year and I look forward to working with you!
Language Arts Team