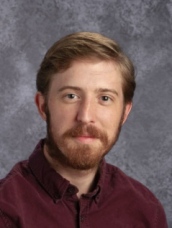 Bobby Billings
Language Arts Team
Hey there! This is my fifth year here at McKeel Academy of Technology, and my seventh year teaching English. Before that, I received my Bachelor's and Master's of Arts in English from Florida Gulf Coast University. Now, I look forward to becoming acquainted with the students and parents of McKeel as we develop our understanding of reading, writing, and communication as a whole.
English is a broad subject, so students can look forward to acquiring a diverse array of knowledge and skills; we will review fundamentals like grammar, hone our analytical skills, explore the socio-historical contexts of writings, cultivate a deeper appreciation of composition as both a science and an art form, and much more!
My hobbies include discussions on philosophy, history, social insights, pop culture, art, reading books on similar subjects, and, most of all, adventuring and just hanging out with my wife and daughters.
I am excited to teach and learn from the parents and students of McKeel Academy and eagerly anticipate a productive school year with you all. Please feel free to contact me with any questions or concerns you may have throughout the year.
Language Arts Team