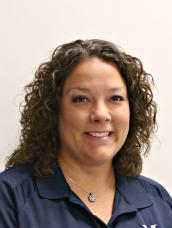 Cathy Dyer
Language Arts Team
Greetings, Wildcats!
In 1994, I earned my English education degree from Southeastern University, and I've been teaching ever since, over all secondary grade levels except for 6th. I came to McKeel in 2012, and I currently teach creative writing and 10th grade English. I'm also the assistant coach for the A-Team and the sponsor for the Creative Writing Club. In addition, I am a teacher consultant through the National Writing Project (USF branch).
In English II (honors and regular), we will be reading exciting pieces of literature: A Raisin in the Sun (play by Lorraine Hansberry), "I am for the Equal Rights Amendment" (speech by Shirley Chisholm), "What's Wrong with the Equal Rights Amendment" (speech by Phyllis Schlafly), Macbeth (play by Shakespeare), and Lord of the Flies (novel by Golding). All of these selections have a common thread -- the struggle for POWER.
Consider this quote: "It is the mark of an educated mind to be able to entertain a thought without accepting it." (Aristotle). I hope that my instruction and our subject matter will lead students to an open-mindedness that will serve them well in any endeavor. Along the way, hopefully, they will remember the lessons given to them by vivid characters, interesting plots, and engaging writers. Even more, I hope they will strive to imitate the great works we study and maybe even create a new path of greatness for themselves.
Language Arts Team