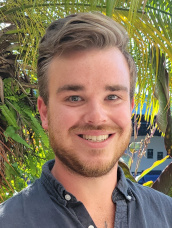 Dylan Dunn
Language Arts Team
Hello everyone! My name is Dylan Dunn and I teach 10th/11th grade English/English Honors. This is my 5th year teaching but my first at McKeel. After earning degrees in English and Secondary Education from the University of Arkansas Little Rock, I began teaching my first year at a small school in central Arkansas. Soon afterwards, my wife and I moved to Lakeland where we have lived ever since.
My wife and I have an almost two year old daughter, a corgi, and four cats. When I am not working, I usually spend all of time with my family and pets. On the occasions that I find time for personal interests, I can usually be found relaxing with a good movie, video game, or music.
I am looking forward to having a fantastic year with everyone!
Language Arts Team