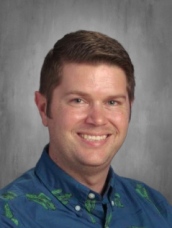 Anthony Ransom
Science Team
Welcome to 7th grade science!
My background is deeply rooted in the life sciences, and prior to teaching I spent eleven years working as a zookeeper, animal trainer, and an associate field researcher of Florida's amphibians. I hold a Bachelor's degree in Marine Science and Biology from the University of Tampa as well as an Associate's degree from Hillsborough Community College. I have taught both 7th and 8th grade science, as well as basic courses in technology, coding, and robotics.
Outside the classroom, I spend much of my time with my wife and two daughters playing through our collection of board and video games, watching anime and Japanese monster movies, and getting out into nature as much as we can.
My goal is to connect to my students and make sure they have a memorable experience in science as they come to the big McKeel site at MAT. I thoroughly enjoy the experience of meeting and teaching my students, and I live for the "AHA!" moments when I see new ideas connect and discoveries are made.
Let's have a great year!
Resources:
Science Team