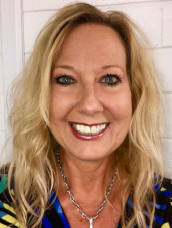 Terri Hickman
Technology Team
WELCOME & CREDENTIALS: Hello McKeel Wildcats and Parents! My name is Mrs. Terri Hickman and I have been teaching at McKeel Academy for 21 years! I graduated from USF with a BA degree in Mass Communications/Public Relations and I have my MBA in Business Intelligence from Baker College - Center for Graduate Studies. I am a Highly-Effective Teacher who is certified by the Florida Dept. of Education to teach Business Education 6th-12th grades and Social Studies 5th-9th grades.
BUSINESS BACKGROUND: Before becoming a Teacher, I worked for Publix Super Markets for 20 years in various retail positions and then was promoted to Corporate in Video Communications and then to Education & Training Development, which allows me to bring real-world business experience to all of my courses.
MY COURSES: This year I am teaching the Marketing Applications and Marketing Management. I am also an Adjunct Professor for Polk State College teaching the following Dual Enrollment courses this year:
College Success - SLS1101 Fall Semester 2022
Introduction to Business - GEB1101 Fall Semester 2022
General Leadership - SLS1261 Spring Semester 2023
Principles of Management - MAN2021 Spring Semester 2023
CLASSROOM ENVIRONMENT: My classroom is a safe environment dedicated to my students' mental health and academic strength. I expect everyone to be treated with respect and be present in class to bring creative ideas and a strong work ethic. I use creative assessment methods to ensure course standards are being mastered.
JOIN FBLA! I love being the Adviser for McKeel Academy's FBLA - Future Business Leaders of America Club! I encourage all students to join this International Business Club where Leaders and born and raised in a fun, business-savvy environment dedicated to community service and representing McKeel Academy at District, State, and National Competitions!
TEACHER WISH LIST: PLEASE send in boxes of Tissues and large containers of Disinfecting Wipes to minimize germs in my classroom. Also, please also join and support the PTSO of McKeel Academy, they do so much for our Students and Staff at MAT! Thank you Parents & Guardians!
JOIN MY REMIND GROUP: for your Class Period: I love to communicate with my students and parents about announcements and reminders. Please join my Remind group for your class period. Information on how to join your class period is listed in my classroom.
REQUIRED APPS: We frequently use the following Apps on your iPad and you are expected to have space on your iPad to download and use these Apps: Pic Collage, Canva, Quizlet, & Notability. We may add more Apps during the school year, so be ready. 😀
TO MY STUDENTS: I'm so glad you signed up for my Marketing and/or PSC DE courses. Let's be ethical and make a difference in this world! You are an important part of the McKeel Academy Community! Let's have an amazing year! Go Wildcats! 💙💚
Technology Team