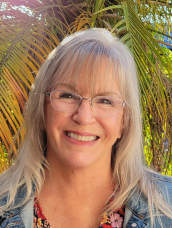 Paula Esposito
Technology Team
WELCOME!!
Hello! I have worked in the education field for over 25 years. I hold a Bachelor's Degree in Education from Florida A&M. I am certified in Business 6-12, Integrated Middle Grades (Social Studies) 5-9, and ESE K-12. I began my teaching career at McKeel Academy in 2003. This year I am thrilled to teach Middle School Business Leadership/Intro to Business and High School Marketing Essentials.
I am here to assist you and your parent/guardian through this exciting academic year. Feel free to email me with any questions or concerns. I will always answer emails within 24 hours. paulaesposito@mckeelschools.com
On a personal note - My husband, Robert and I have been married for 33 years, have four wonderful children, and six beautiful grandchildren. I enjoy cooking, traveling, reading, and watching HGTV to think up new projects to work on.
Here's to a great year full of fun, exploration, and learning!
CORE VALUES:
Community

Excellence

Leadership
Integrity

Tutoring / Make-ups / ReTakes Requirements and Schedule:
I am available for make-ups, tutoring and re-takes most every morning AFTER 7:40 (Except on Duty Days and occasional meetings).
Students, in order to attend tutoring, makeups or retakes, you must email me from your McKeel email with a request for a specific date and time to come to my classroom. I will then check my calendar for my availability. My reply is your pass and must be shown at the school entrance. Before retakes may be taken, students must have completed all related assignments. (This gives students a chance to re-study BEFORE re-testing.) If you were absent and need to make-up an assessment, you need only to email me and schedule a time to come in. Retakes and makeups must be taken within ONE week.
Class Supplies:

iPad (fully charged)

battery operated charger (highly recommended)

headphones/earbuds (required daily)

loose leaf paper

pencils

personal pencil sharpener

eraser

ink pen

highlighter(s)

folder
Wish List:
Clorox Wipes
Tissues!!
Paper towels
Technology Team