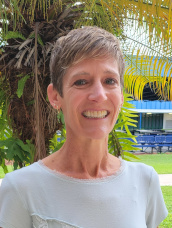 Jill Smith
Specialists
Originally from Michigan, I am a graduate of Concordia University, Ann Arbor with a degree in Elementary Education. I also have a Master's Degree in Elementary Mathematics K-6. I am certified in the state of Florida in the following areas:
K-12 Exceptional Student Education

Mathematics (Grades 5 - 9)

Middle Grades Integrated Curriculum (Grades 5 - 9)

General Science (Grades 5 - 9)
Professionally, this is my 23rd year teaching and my 6th year at McKeel. I have taught 6th grade math, 7th grade math, pre-algebra, algebra, and exceptional students. I have also been a Math Interventionist and Math Coach. This year, I will continue working as an ESE Math Inclusion Teacher.
My husband, Chuck Smith, is the Athletic Director at MAT. We have two children who have both attended McKeel since Kindergarten. Our daughter, Skyelar, is a senior this year and plays basketball and softball. Our son, Steele, is in 6th grade and loves art.
I am looking forward to a fabulous year!
Please contact me for any of your students' needs and we will work together to ensure their success!
Specialists