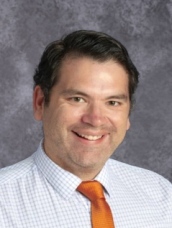 Gregory Rich
Social Studies Team
Good morning, Wildcats! Welcome to the 2021-2022 school year! This is my third year at McKeel and my seventh year working in education. I earned my B.A. from The Catholic University of America (Washington, DC) in 2008 in History and Secondary Education. I earned my first Master's of Education in Higher Education Administration/Student Affairs from Northeastern University (Boston, MA) in Spring 2015. I'm currently enrolled at Florida Southern College earning my second Master's in Educational Leadership.
What to expect:
I was always taught from my professors that History always has three sides of a story: the winners, the losers, and the fuzzy part somewhere in between. In all of my sections from regular to Advanced Placement - we will be on a quest this year to decode the past, the present, and even the future!
The courses:
US History: Our adventures start off with reviewing the causes/course/consequences of the Civil War and the Reconstruction era. We will continue with the topics of Manifest Destiny, Immigration, the Guided Age, the Progressive Era, American Imperialism, World War I, the Roaring 20s, the Great Depression, World War II, the Cold War, the Vietnam War, and we wrap up with Modern America! Log into Canvas in August to learn more!
AP US History: This course is designed as an introductory college survey US History course. Unlike in the traditional US History course, our adventures start off in 1491 with the start of European Exploration and we work through 9 distinctive time periods to end up the course with Modern America.
US Government: This course will help students fine tune their citizenship skills before participating in the democracy process. This semester long course will review the foundations of our government, examine the three branches of government, review landmark US Supreme Court cases, and how to be a better citizen in our global community!
Introduction to Economics: Economics is the study of choices. We will be analyzing choices as we prepare for life outside of high school. We will learn how to rent an apartment, determine what type of mortgages are less expensive, and even creating an economic system for our very own country that we will create!
Rock Around the Clock: A McKeel tradition unlike no other will be returning back this academic year! Rock Around the Clock (RAC) has been at MAT for almost twenty years and has become a tradition before Juniors become Seniors! All Juniors (even Dual Enrollment) students are required to participate in RAC. Additional details will be announced in class!
"It's not tyranny we desire; it's a just, limited, federal government." ~ Alexander Hamilton.
Social Studies Team