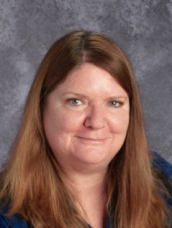 Beth Batson
Social Studies Team
Welcome to 11th grade U.S. History!
Hi! My name is Beth Batson. I am married to Mark Batson who has worked for Publix forever (started working there in 1980 😳). We have 2 great kids, one who still goes to McKeel. History is one of my favorite subjects and I believe when you are passionate about the subject you teach, it shows in your work.
When I'm not at school, I'm either reading, gardening, traveling, or thinking about traveling.
My Education and Professional Background
I started my career at McKeel in 2014 as a substitute teacher to have something to do while my kids were at school. I loved the job so much that I decided to make in permanent. So, by 2018, I was certified in my favorite subject and was lucky enough to continue on working for a school that I love, and that's when I began teaching U.S. History.
I graduated in 1998 from University of South Florida (Go Bulls!) with a degree in Criminology. I am certified to teach Elementary K-6 and 6-12 Social Sciences.
Courses This Year: 11th grade U.S. History, Legal Systems & Concepts, Comprehensive Law Honors & Constitutional Law Honors
Club Sponsor of: Clay Target Club, co-sponsor of the Rho Khappa History Honor Society
Social Studies Team