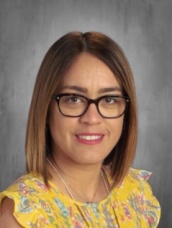 Rosarelis Vazquez
Spanish Team
HOLA! Bienvenidos/Welcome WILDCATS to an amazing and extraordinary school year!
My Name is Señora Rosarelis Vázquez! I'm a native speaker of Puerto Rico. I live in Lakeland with my husband and daughter. I enjoy traveling & being with family and friends. I'm a part of the Spanish Department at McKeel Academy of Technology! This will be my 21th year teaching and my third year at MAT. I am looking forward to what this year will bring!
I graduated with a Bachelor of Arts in Social Sciences from the University of Puerto Rico and a Master's Degree in Curriculum and Teaching from the Catholic University of Puerto Rico. I also completed an Internship at Complutense University in Madrid, Spain. I have had the privilege to teach in Puerto Rico, Spain, and the United States. I have been in the Education field since 2002, teaching Social Studies, History, and Spanish to middle schoolers, high schoolers, and adults. I'm a Comprehensible Input (CI) certified teacher and was a member of the Polk County Public Schools Spanish Curriculum Map Developing Initiative and Textbook Adoption Committees.
I come from a family of educators; my mom, uncles, and aunts taught me the important impact a teacher can make in students' lives. Also, I firmly believe that with hard work, every door will open to a new opportunity in life. My classroom is open to my students' needs, and the environment that rules my classroom has always been a place where my students feel secure, comfortable, and valued. Creating curiosity in my students to learn about Hispanic Culture is my philosophy.
Let's make this year unique and special!! ¡Hasta luego! Let's move mountains!
"Learning another language is not only learning different words for the same things, but learning another way to think about things." ‒ Flora Lewis
Spanish Team