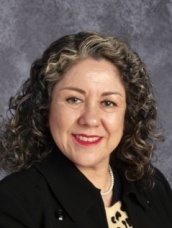 Leticia Patient
Spanish Team
Bienvenidos/Welcome!
My names is Mrs. Leticia Patient. This is my first year at MAT, but I have been teaching in Polk County Schools for 20 years. I was at Lawton Chiles IB Middle Academy teaching Spanish for 8 years and at Traviss Technical College teaching English Literacy for Career and Technical Education for 12 years.
I graduated from Autonomous University - Aguscalientes, Mexico with a Bachelor of Science in Mass Media/ Communication. I am certified for teaching in the State of Florida in:
English for Speakers of Others Languages (ESOL)/(GRADES K-12)

Journalism/(GRADES 6-12)

World Language - Spanish/ (GRADES K-12)
I am sure it is going to be a year filled with fun, learning and a lot new adventures.
SCHOOL SUPPLIES
SPANISH 1
charged iPad

airPods or earbuds

1 dry erase marker (any brand/any color)

color pencils (any brand)

paper



WISH LIST:
Tennis balls for bottom of the chairs
Facial Tissue
SPANISH 2
iPad (The approved online dictionary is http://WordReference.com)
1. earbuds with microphone
2. one spiral notebook
3. prong, 2 pocket folder (any color)

4. pencils/pens



Students should replace supplies as needed throughout the year.
WISH LIST:
Tennis balls for bottom of the chairs
Facial Tissue
Spanish Team