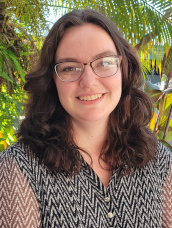 Ashley Briggs
8th Grade Team
Hello Wildcats!
I'm so excited for my first year teaching at McKeel! I have taught middle grades science for almost 2 years now.
I earned my Bachelors of Science in Health Sciences with a minor in Public Health from USF. I am very proud to be a first generation university graduate. Before I became a teacher, I worked at a tissue bank/organ procurement organization as a donation coordinator and I am still an AATB certified tissue banking specialist.
Outside of school, you can usually find me crocheting/knitting, going on walks or bike rides, learning new recipes, and listening to music from all over the world. I'm genuinely interested in my students' hobbies and interests so please share what you love with me!
I graduated from McKeel and still have a sibling at MAT, so I am very happy to be coming back to this community!
8th Grade Team